Creating a vintage bathroom style can be a charming and elegant way to transform your space. A pedestal sink is the perfect centerpiece for this design style, as it adds a classic and timeless touch to any bathroom. In this article, we'll explore some ideas on how to achieve a vintage bathroom style with a pedestal sink.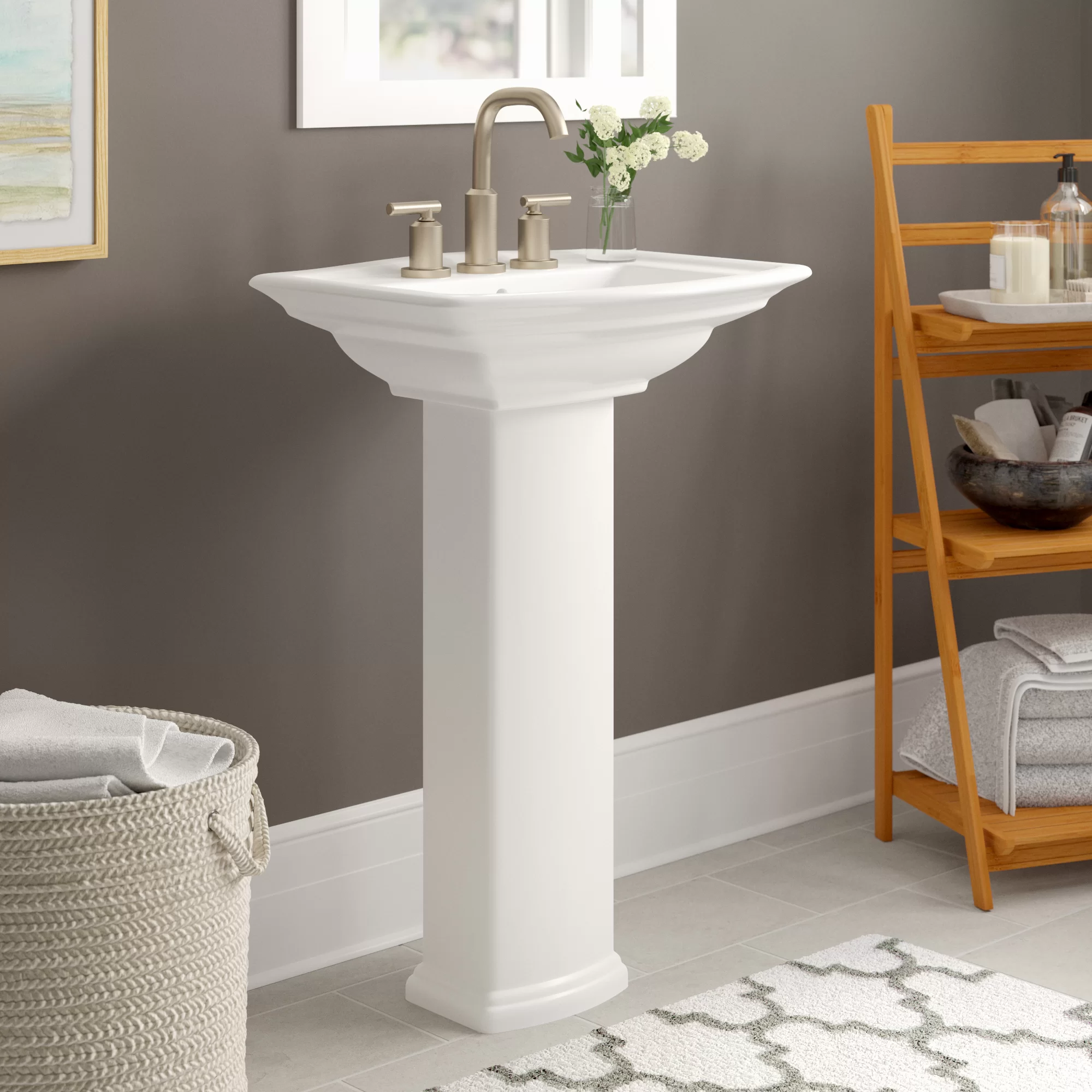 Choose the right pedestal sink
Selecting the right pedestal sink is key to achieving an authentic vintage bathroom style. A classic sink with elegant shapes and features like curved backsplashes and ornate legs can provide the perfect focal point for a vintage bathroom. White porcelain or cast iron are ideal materials for creating the vintage look. These materials also tend to be more durable and easier to clean than other options. Take the time to consider the size and placement of the sink in your bathroom, as well as its overall aesthetic. By choosing a pedestal sink that fits your personal style and design preferences, you can create a beautiful and timeless bathroom that you'll love for years to come.
Add vintage accessories
Adding vintage accessories is a simple yet effective way to enhance and complete a vintage-style bathroom with a pedestal sink. Look for antique soap dispensers, toothbrush holders, and towel racks that pair well with your sink's color and design. By incorporating these vintage accessories, you can create a cohesive look and add a touch of character and nostalgia to your bathroom. Don't be afraid to mix and match different accessories to create a unique and personalized vintage style. Consider incorporating pieces with intricate details or unique textures to make your vintage-inspired bathroom truly stand out.
Use vintage fixtures
Vintage fixtures are an essential component for achieving a vintage bathroom style with a pedestal sink. They add a sense of sophistication and elegance to the space, and can make a bold statement when paired with a classic pedestal sink. Choose fixtures with a polished chrome or brass finish, which are traditional and timeless materials that go well with white or colored pedestal sinks. You can also search for unique or antique pieces to add character and personality to your bathroom. Consider creating a cohesive look by selecting fixtures with similar designs, finishes, and motifs. With vintage fixtures, you can create a bathroom that is both functional and beautiful.
Add vintage lighting
Vintage lighting fixtures can also complement your vintage bathroom style and create a warm and cozy atmosphere. Choose lighting with a muted, aged finish and classic designs, such as schoolhouse sconces or Art Deco-inspired chandeliers. Consider adding a dimmer switch to adjust the lighting based on your mood or time of day.
Use vintage wallpaper or tiles
One of the best ways to create a vintage feel in your bathroom is by using wallpaper or tiles with vintage designs. Look for patterns that have classic motifs, like floral or geometric designs. You can also add border tiles in complementary colors to give your bathroom some depth. Keep the colors muted or in soft pastels to maintain the vintage charm.
In conclusion, a vintage pedestal sink can be the perfect centerpiece for a vintage bathroom design. By using classic shapes, accessories, fixtures, lighting, and wallpaper or tiles, you can create a timeless and elegant look in your bathroom. Don't be afraid to mix and match elements to create a personalized style that speaks to your tastes and preferences. With the right elements, a vintage bathroom style with a pedestal sink can be both inviting and functional.