When it comes to designing and styling a bathroom, there are numerous options available, and it can be challenging to know where to start. However, one inspiring element can be starting with the sink. A pedestal sink is not just a highly functional option, but also a stylish one that can transform the entire look and feel of a bathroom. In this article, we will explore some pedestal sink ideas that can provide inspiration for your bathroom style.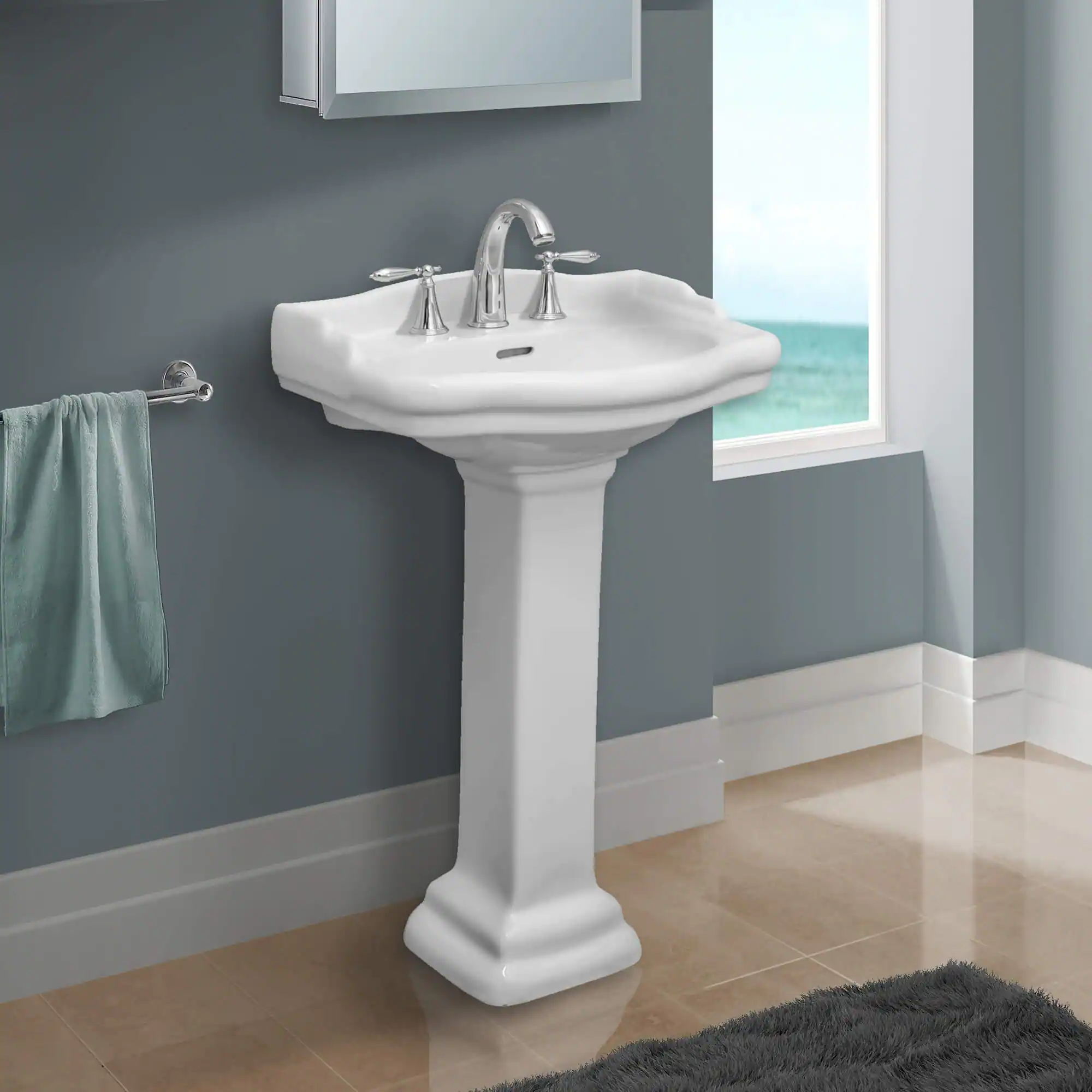 Classic and Timeless
A classic and timeless pedestal sink is always a great option and can suit any bathroom decor perfectly. A traditional white porcelain sink with a polished chrome faucet and a straightforward base can look gorgeous in any bathroom. Add some vintage-inspired details, such as brass light fixtures and a clawfoot tub, to create a more nostalgic and romantic atmosphere.
Modern and Minimalist
If simplicity and sleekness are your favorites, opt for a modern and minimalist pedestal sink. Think about a black or matte finish sink with a matching faucet and a simple base. Chrome and brushed nickel finishes will also look great in this style. Pair it with a frameless mirror and subtly patterned tiles on the floor and walls for a clean and streamlined look.
Glamorous and Luxurious
For those who want to add some glamour and luxury to their bathroom, a pedestal sink with ornate details is a must-have. Consider an elegant white sink with decorative carvings and gold or silver accents for an opulent feel. Pair it with a crystal chandelier and marble tiles for an upscale and luxurious look that exudes elegance.
Rustic and Eclectic
If you prefer eclectic and rustic flair, a pedestal sink can be the perfect backdrop for your bold style choices. The key here is to choose natural materials such as stone or wood for your sink and a vintage-inspired faucet with a weathered finish. Pair it with rustic wooden shelves, natural textiles such as woven baskets, and plants to create a cozy and inviting bathroom space.
Contemporary and Fun
A contemporary pedestal sink is perfect for those who want a fun and playful bathroom design. A colorful sink in a unique shape can be the focal point of the bathroom, adding a burst of energy and life to the space. Pair it with a matching faucet and a simple base, and add bold patterned tiles on the floor or walls to create an upbeat atmosphere. This style is perfect for households with kids or those who want to create a dynamic and youthful vibe in their bathroom. It is also a great way to inject your personality and creativity into your bathroom decor and express your unique sense of style.
In conclusion, the pedestal sink can serve as a starting point for creating your bathroom style. Its versatility makes it an ideal choice for any discerning homeowner looking to inject personality and character into their bathroom without compromising on functionality. By drawing inspiration from these pedestal sink ideas, you can choose a style that suits your taste, needs, and budget and transform your bathroom into a beautiful and functional space.
When selecting a pedestal sink, ensure that it is the right size and height for you and that it complements your bathroom decor and other fixtures. Also, don't be afraid to add some personal touches such as custom tiles, quirky artworks, and statement lighting to complete your style. With the right elements, a pedestal sink can be a stunning asset to your bathroom, bringing elegance, functionality, and style.